Automatic Wing Positions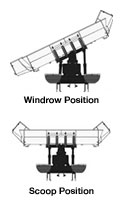 The SPEEDWING™ automatically positions its wings for maximum plowing efficiency.
Windrow Position
When angled for windrowing, the trailing wing folds back in line with the moldboard while the leading wing retains its forward position to capture more snow, reduce spill-off and allow you to use the entire blade.
Scoop Position
For straight-ahead plowing, both wings angle forward, automatically defaulting to the scoop position for maximum snow-pushing and stacking capacity.
Moldboard Features

Expandable Wings
The 12-gauge steel moldboard features wings that automatically position for maximum efficiency.
Steel Moldboard Cutting Edge
The durable 6" tall steel moldboard cutting edge delivers a clean scrape.
Heavy-Duty Construction

Continuous-Welded Moldboard With Reinforcement Ribs
The heavy-duty moldboard is reinforced with four vertical ribs. Solid continuous welding provides superior strength.
Torque Box Construction
Provides unmatched torsional strength to minimize blade twisting under severe plowing conditions.
Full-Trip Moldboard Design
The full moldboard trip design protects your vehicle and snow plow components when striking obstacles.
Shielded Hydraulic Components

Blizzard hydraulic components are built in our Milwaukee, Wisconsin manufacturing facility to assure high quality and reliability.
Fast responsive hydraulics for maximum snowplowing efficiency
Low-mounted for unobstructed airflow to the vehicle's cooling system
Durable plastic cover protects hydraulic components from the elements
POWER HITCH™ Attachment System

The POWER HITCH uses hydraulics to secure the snow plow to your vehicle. With just the flip of a switch, the hitch arm engages the back of the pushbeam and pulls the snow plow into positive alignment with the vehicle undercarriage. Two spring pins secure the snow plow to the vehicle for super-fast effortless installation. The POWER HITCH™ 2 is available on the Model 8600SW.
POWER GRIP™ Hand-Held Control

For intuitive blade control, choose between the universal power grip hand-held control and the compact joystick control Are the bullet points below all true?
Provides easy, precise control for all blade and wing functions.
Power "on" and "float" LED
Backlit for night operation
FLEET FLEX

FLEET FLEX ELECTRICAL SYSTEM provides true fleet interchangeability among current plows. Features common programmable controls with built-in SECURITY GUARD™anti-theft system.
Simple wiring and easier installation
Programmable "soft-stop" and "one-touch" float
Available on all POWER HITCH™2 snowplow models.
SECURITY GUARD™ Anti-Theft System

The exclusive BLIZZARD® SECURITY GUARD™ Anti-theft system is a safe and secure way to electronically lock your snow plow while it is detached from the truck, providing a deterrent from theft or non-permitted use.
Unlike physical locks that can be cut or removed, the SECURITY GUARD Anti-theft system electronically synchronizes your control and plow module. When activated, it disables the electronic control system and renders the plow inoperable to unauthorized users.
The SECURITY GUARD anti-theft system is standard on POWER HITCH™2 snow plow models.
STORM SEEKER™ Headlamps

Get outstanding low-beam halogen illumination. STORM SEEKER headlamps feature a bright, smooth, wide beam pattern, and are designed to absorb road vibrations, eliminating the need for re-aiming.
Lens and reflector are adhesive-bonded to seal out damaging water
Reflector optics minimize glare, especially during snowfall
Two-stud mounting keeps lamp in its original position
Long-life H13 bulb has an average life of 1,500 hours
Quick and easy three-screw bulb replacement
POWERCOAT Baked-On Powder Coat Finish

BLIZZARD® snow plows feature POWERCOAT, a baked-on high-gloss powder coat formula that helps guard against weathering and corrosion.
Featuring a tough epoxy primer that delivers added protection and improved powder coat adhesion, POWERCOAT delivers exceptional overall protection.