BLIZZARD® SPEEDWING™ and HD Series Snowplows
Now Fit Skid-Steer Loaders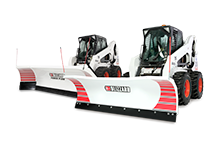 In addition to their flagship POWER PLOW™ adjustable-wing snow plow, BLIZZARD now offers both the innovative SPEEDWING multi-position winged-blade snow plow and HD Series straight blade snow plow for skid-steer loader applications. All models feature a universal skid-steer loader mounting plate for fast and easy hook-up and utilize the skid-steer's standard auxiliary hydraulics to provide angling power.
"The SPEEDWING snowplow features an ingenious patented mechanical wing design that automatically positions its wings to deliver maximum plowing efficiency, whether in straight-ahead scoop mode or angled for windrowing," said Michael Frank, Blizzard Snowplows product manager. "It's ideal for skid-steer loaders, delivering multi-position winged-blade plow performance in a unit that's as easy to operate as a straight blade. It clears an 8'7" swath in straight-ahead scoop position and a 7'10" swath when angled for windrowing."
Bring Unmatched Snow Plowing Versatility to Your Skid-Steer Loader
Available in 7'6", 8', 8'6" and 9' blade widths, the BLIZZARD HD Series straight blade snowplows for skid-steer loader applications are designed to deliver superior performance in the most demanding conditions with their heavy-duty construction, flared moldboard and aggressive cutting edge angle.
For additional information on all BLIZZARD plows visit the snowplow showroom.