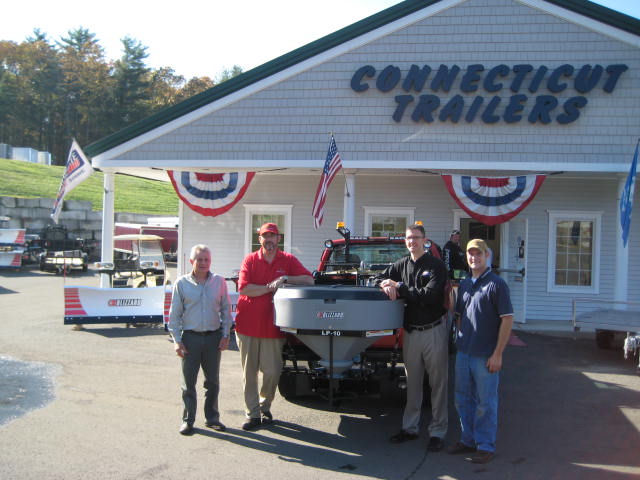 BOLTON, Conn. (November 14, 2011) – Last month, BLIZZARD Snowplows gave Connecticut snow-removal and landscape professionals the opportunity to win a BLIZZARD LP-10 tailgate-mounted salt spreader. To become eligible to win the prize, contestants were simply required to fill out a form on the BLIZZARD snowplows website.
Recently, BLIZZARD announced Larry Boyle, owner of Complete Lawn Service LLC in Vernon, Conn., as the winner of the salt spreader.
Boyle, who recently started his landscape and snow-removal business, said the news of winning the spreader took him by surprise, "Once I had a few minutes to relax and think about winning, it hit me that this spreader will now help me to grow my business by offering another service to my customers."
The new spreader was installed on Boyle's truck at Connecticut Trailers in Bolton, Conn., and was presented to him by Gary and Craig Bergeron of Connecticut Trailers, as well as Steve Dewey, national sales manager for BLIZZARD Snowplows.
Awarding the salt spreader to a startup business owner means a lot to Dewey, "It's great to know that, in this economy, BLIZZARD is able to help a new business owner get off the ground. It's a great story, really."
Now that his prize has been installed, Boyle is patiently awaiting another snowfall, "Now I just have to wait for winter weather to put it to use."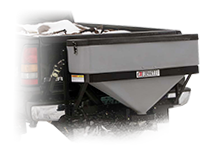 About BLIZZARD LP-10 Tailgate Salt Spreaders
Enhance Ice Control Efficiency with a BLIZZARD® Tailgate Spreader
Built for top performance, these tailgate spreaders feature a low-profile design for better rear visibility. They're simple to use, easy to transport and a breeze to store.
Features: 8.5 cubic foot capacity. Adjustable feed gate with positive material flow shut-off. Adjustable material deflectors. Receiver hitch mount with nylon straps.
For additional information on all BLIZZARD plows visit the snowplow showroom.