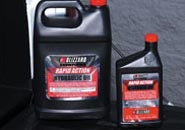 BLIZZARD SNOW PLOW RAPID ACTION HYDRAULIC OIL
BLIZZARD® hydraulic fluid is specially formulated for use in all truck-mounted BLIZZARD snow plows. This zinc- free product can significantly enhance the operation and performance of the hydraulic system in the most inclement weather conditions, maintaining its viscosity to temperatures as low as -60˚F.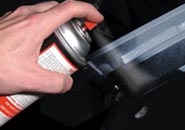 BLIZZARD SNOW PLOW TOUCH-UP PAINT
Putting your snow plow away for the winter? Cleanup your blade and snow plow parts with our gloss spray paints. BLIZZARD touchup paint provides an excellent finish to help keep your snow plow looking its best. Provided in 12 oz. spray cans. Gloss white or black available.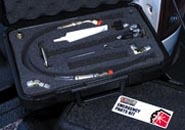 EMERGENCY PARTS KIT
Be prepared for unexpected snow plow emergencies! This kit includes the most common replacement parts, conveniently packaged in a small, durable plastic case. The compact case measures only 13-1/2" x 9" x 3-1/4" for easy storage behind or under your truck seat.